You have no idea how many pictures I had to take before I could get to the last one (which is one of my favorites!) She has a sixth sense for when mom is taking pictures, and she hates to have them taken of her!
"Feelings of worth can flourish only in an atmosphere where individual differences are appreciated, mistakes are tolerated, communication is open, and rules are flexible — the kind of atmosphere that is found in a nurturing family."
- Virginia Satir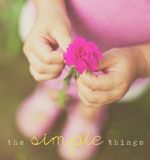 Linking up with Rebecca at
The Simple Things
.